Spa
A wellness oasis for moments of pure relaxation. A rejuvenating experience to banish stress, release energy and enhance the beauty within everyone...

The Spa, inaugurated in August 2022 was created with a contemporary and unique design.

It offers : Turkish Bath , Finnish Sauna , Emotional Shower Path with Chromotherapy , Foot Spa , Whirlpool , Relaxation Area with Thepidarium and Aromatherapy , Relaxation Area with Music Therapy , Area with Herbal Teas and Fresh Fruit.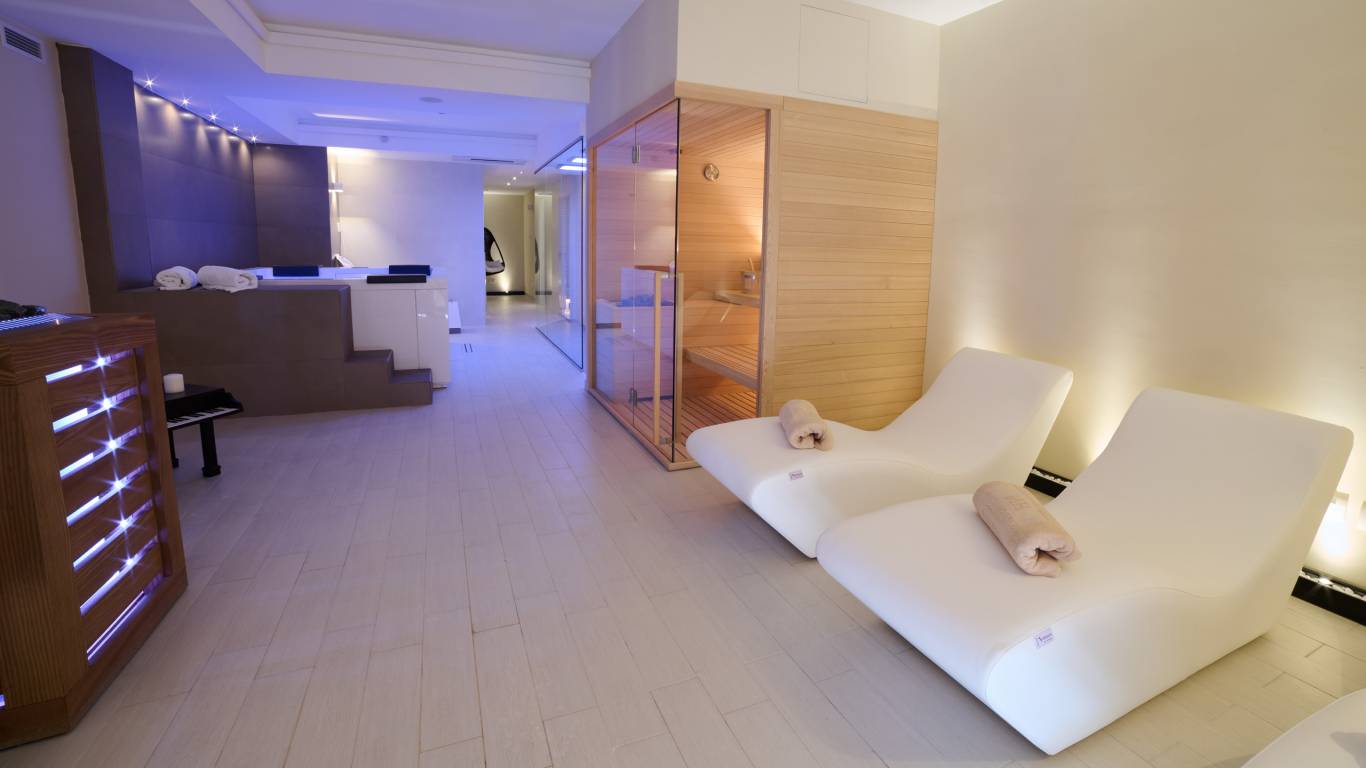 Turkish Bath
Temperature: 40-45°C
Relative humidity: 98-100%
Dwell Time: 10- 20 min

The benefits of the Turkish bath are countless and affect both the mental and physical spheres. The high humidity and perceived high temperatures promote sweating of the body and dilation of the pores. In this way, all excess toxins are released, restoring luster to your skin and cleansing it of impurities.
It is, therefore, recommended for those suffering from skin diseases such as acne, eczema and forms of dermatitis. The strong heat felt is, in addition, a panacea for those suffering from muscle pain or other joint conditions. The steam bath counteracts water retention, improves blood circulation thanks to the vasodilating action of the high temperatures and the vasoconstrictive action of the cold shower.
In addition, the warm environment helps counter some respiratory conditions, such as colds and sinusitis.
The steam bath session is also recommended after physical activity and the gym, as the high humidity rate promotes the elimination of lactic acid and relaxation of the muscles, thus allowing the athlete faster physical recovery.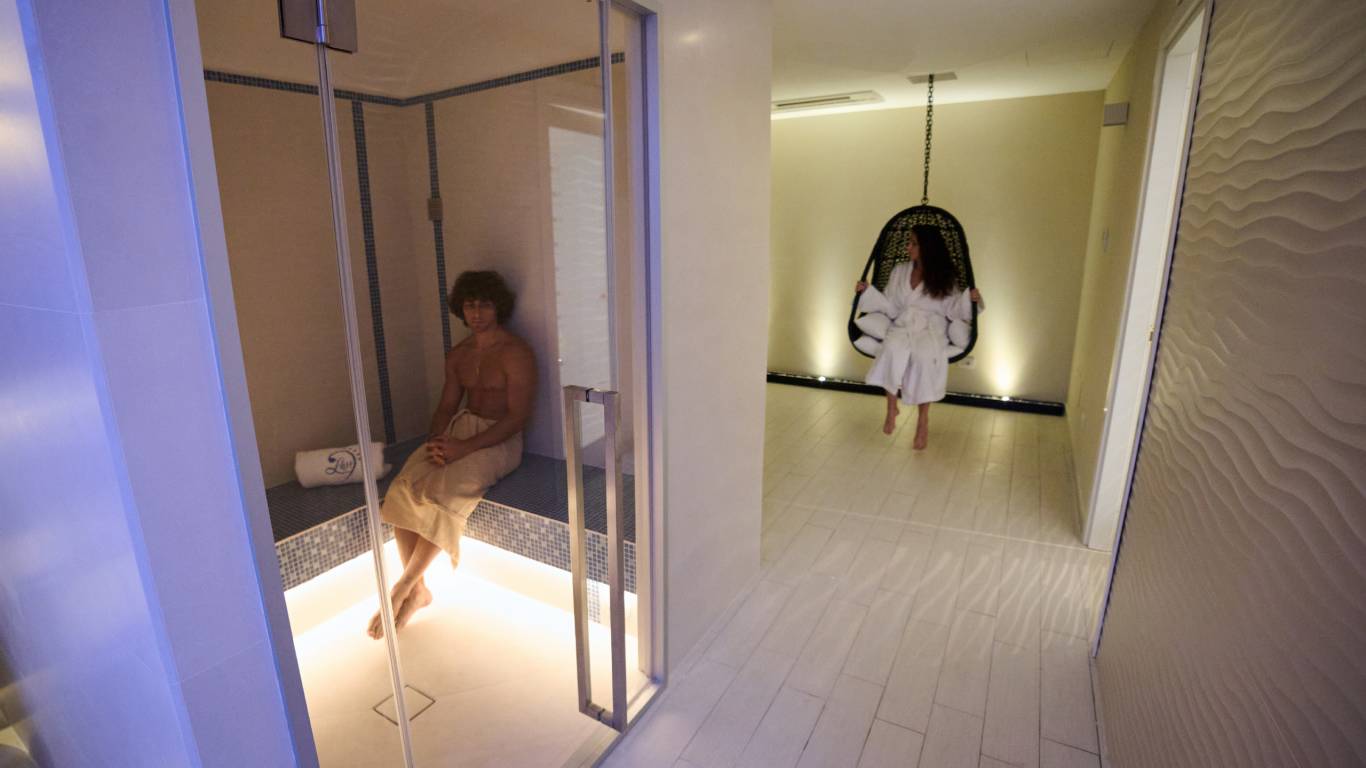 Sensory Showers - Island
Press the start button and the effects will start in a sequence, one after another.
Cold mist: A thin cold water mist, scented with fresh notes of Mint aroma and illuminated by deeply relaxing blue light.
Tropical shower: Large drops of warm water synchronized with orange light and scented with tropical citrus fragrances.
Veil shower :Two blades of body temperature water from above, scented with Blu Relax aroma and illuminated by green light.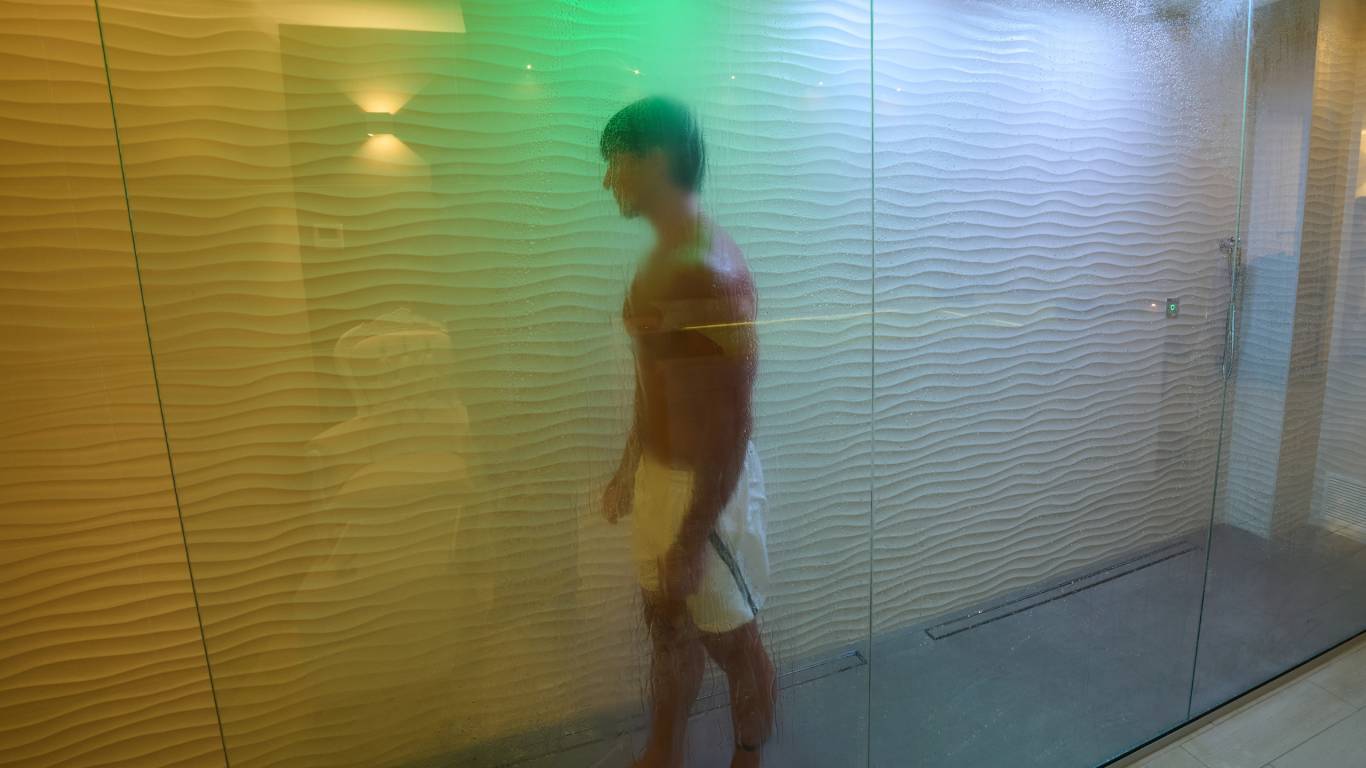 Chaise Long
Ergonomic shape, Lumbar support, Knees at heart level to stimulate blood flow after sauna .